CONTACT US
Address :
207 Halar House, 2nd Floor, Indira Road, Near Nagnath Gate , Jamnagar Gujarat ( Pin Code: 361001), India
Phone : +91-288-2551385
Mobile : +91-9879541385
Fax : +91-288-2551385
Road Transportation
Home | Services | Road Transportation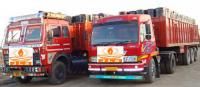 Jotti Logistics Service offers relable Road Transportation Service all across India and Nepal. Our Road Transportation Service includes LCV, 17 Feet, and 19 Feet Canter, 16 M.T., 21 M.T., 24 M.T, 27 M.T, and 33 M.T. In addition, the company also provides Truck &Trailer, 40 Feet Trailer, and service for any type of ODC consignment, in any part of India. We are equipped with mobile and GPS tracking service system that ensure efficient Road Transportation Service.
We have got our own fleet packed & bulk bitumen carriers carrying bitumen for various reputed customers all over India. In case the customers need any transport facility, we can facilitate that and deliver products at their various sites, as per local costs. We are into the field of Bulk Bitumen Transportation, only within the nation.
Services Offered
Transportation of goods by road & rail
Local pick-up facility, as per the client's requirements
Express Service in 6-7days Jamnagar-Guwahati
Full Truck, Trailer, Canter & ODC consignment accepted all over India
Door to Door services
Different type of 40 Feet Trailer, Hydra Crane, J.C.B., Loader, D.G. set, etc. available for rental purpose
Provision of skilled labor for loading & unloading services
Packers & Mover for household & car shifting services